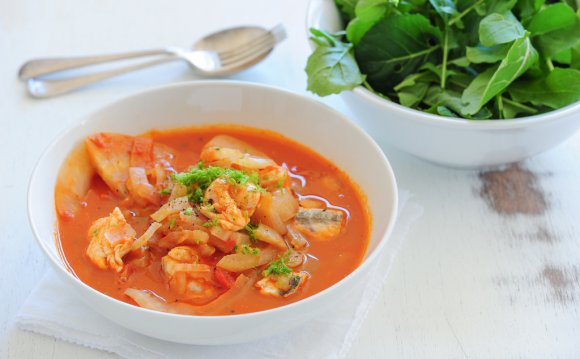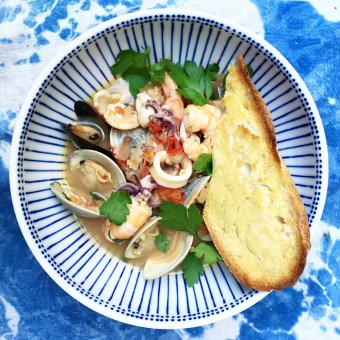 This simple stew, inspired by cioppino, is one of my favorite summer seafood recipes. It's a go-to on family beach trips, when I feel the need to pack in as much seafood as possible, as if I'll never have access to it again.
To the contrary, I eat seafood wherever I am, but there's something about the salty humid air of the coast that I swear makes it taste even better. And when you're city-bound, a bowl nearly conjures that same seaside vibe.
Many recipes for fish stew call for a long ingredient list of pricey seafood and homemade fish stock. But you can coax a lot of flavor out of a few ingredients in little time. And what seafood you toss in is really up to you. Crab legs, scallops and mussels are all great additions not included here. (We tossed in mussels last time, pictured above!)
Serve as a light supper with a salad and French bread, or as a first course for a dinner party.
Simple Seafood Stew
serves 6
1/4 cup olive oil
2 large onions, sliced
6 garlic cloves, smashed
1 serrano pepper, minced
5 cups tomatoes, chopped (You can also use canned diced tomatoes if needed.)
2 cups dry white wine
1 cup water
2 bay leaves
1 pound shrimp
3/4 pound squid, tentacles and bodies cleaned and sliced into 1/2-inch pieces
1 1/2 pounds halibut or other firm white fish, cut into 1-inch chunks
18 clams
fresh basil and parsley
salt and pepper to taste
lemon
Heat olive oil in a large heavy bottom pot over medium high heat. Add onion and cook 3-4 minutes. Add garlic and serrano pepper and cook 5 minutes. Add the wine and cook for about 3 minutes.
Add tomato, water and bay leaves, and simmer over low heat for 15 minutes. Season with salt to taste.
Turn heat up to medium high, add the squid and fish, stir and cook 3-4 minutes. Set the clams on top, cover and cook for about 5 minutes. Add the shrimp and cook another 3-5 minutes until the clams have opened and the shrimp are cooked through.
Adjust seasoning by adding salt and pepper to your liking. You can thin the stew with a little water if it's thicker than you want. Ladle into bowls, add torn basil leaves, parsley, lemon wedges and serve.
See also:
Source: www.amandamcclements.com
RELATED VIDEO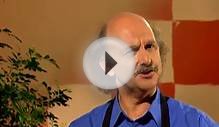 Fish Soup or Stew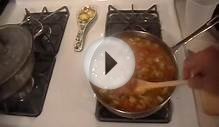 How to Make Fish and Vegetable Stew Part 2/2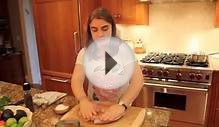 Kenyan Fish Stew with Coconut Rice
Share this Post