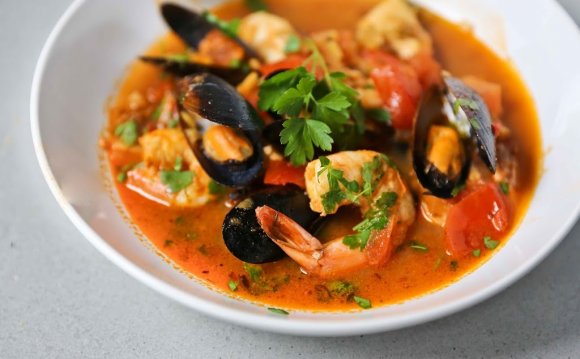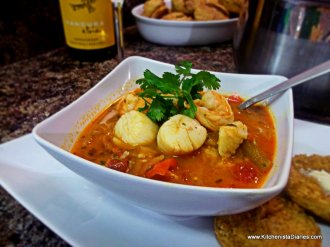 It's been a rainy weekend here in South Florida as we await Tropical Storm Isaac. We definitely had a lazy day in my house which I thoroughly enjoyed after the rush of the first week back to school! I don't know if it's the cool, wet weather or the feeling that fall is at our doorsteps, but comfort food seemed to be in order tonight for Sunday Dinner. I've had a week full of cooking heavier, meaty dishes - rabbit, beef bacon, turkey and lamb - so the only thing I plan to eat for awhile is seafood and vegetarian meals. Ever since talking to a good friend of mind about the fish stew she prepared last week, it's been on my mind. I love a good fish stew and lean towards those prepared Spanish-style with a tomato base, so I took elements from various stews I've had or wanted to try and made my own version. What I liked about it was that even though it filled us up and packed a ton of flavor, it wasn't a heavy dish at all. I rarely eat soups or stews in the summer, so this was a treat. I purchased cod, shrimp and scallops as those were the best deals at the seafood counter today. You can substitute any meaty white fish or even salmon. If fresh seafood isn't an option, thawing a bag of frozen mixed seafood can be economical. Our grocery stores here sell $5 bags of shrimp, mussels, squid and scallops that would work perfect in any fish stew. To finish off this zesty, healthy Sunday Dinner, my son helped me make sweet potato biscuits, coconut brown rice and sauteed zucchini. Dinner came together nicely and definitely brought us some comfort on this rainy summer evening. For all of my readers in Isaac's path, be safe out there tonight and in the coming days!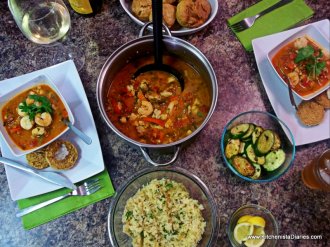 Summer Seafood Stew
Ingredients:
2 lbs mixed seafood:
-1 lb cod
-1/2 lb shrimp, deveined & shells reserved
-1/2 lb scallops
2 onions, sliced
8 cloves garlic, minced
2" piece fresh ginger, minced
1 red bell pepper, cored & seeds removed
1 green bell pepper, cored & seeds removed
1 large jalapeno pepper, sliced
2 tsp smoked paprika
2 tsp coriander
1 tsp cumin
1/2 tsp sea salt
1/2 tsp black pepper
1 can chopped tomatoes
8 oz. natural clam juice
2 c. organic chicken broth
1 c. dry white wine
Juice of 2 lemons, zest of 1 lemon
Fresh cilantro, finely chopped
Fresh parsley, finely chopped
2 tbsp coconut oil
Servings: 6 - 8
Prep Time: 15 min
Cook Time: 60 min
Equipment Needed: Large pot or dutch oven
The best way to cook a flavorful stew is by building flavors slowly and allowing the broth plenty of time to simmer. I started this one by cooking sliced onions in coconut oil over medium heat. You want these to get soft and translucent as they start to brown, approximately 10 minutes.
While the onions cooked, I prepped my remaining veggies. The minced garlic and ginger can be added to the onions and cooked a few more minutes until fragrant.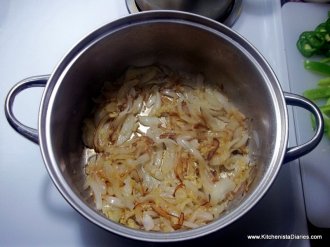 Add the peppers and jalapeno to the pot and continue to cook until peppers are crisp tender, 3 - 4 minutes.
Season with coriander, smoked paprika, cumin, salt and pepper.
Add the clam juice, chicken broth, and tomatoes. Stir to incorporate the seasoning into the broth, scraping up any browned bits of garlic and ginger at the bottom of the pot.
Add some chopped cilantro and parsley. Reduce heat to low and simmer at least 30 minutes. If you are making the stew ahead of time, now is a good time to stop. The seafood should not be added until just before serving, so the broth can be reheated when you are ready to finish the stew.
Chop up the fish into bite size chunks. Add to a bowl with the scallops and peeled shrimp. Squeeze one of the lemons over the fish and season with a good pinch of coriander, cumin, cilantro and parsley. Toss lightly and set aside.
I almost always buy shrimp with the shells still on because it saves me a couple dollars per pound. Another great thing about that is the shells add a ton of shrimp flavor to your broth. After rinsing them off, place them into a small sieve, and then dip the sieve into your broth so that the shells cook in the liquid. Simmer for a few minutes until the shells are pink, then remove the sieve and discard the shrimp shells.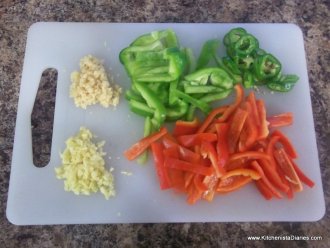 Increase heat to medium low. Finish the broth by adding the white wine as well as the juice and zest from the remaining lemon. Allow to simmer for a couple minutes. Now is an excellent time to pour yourself a glass of wine if you haven't already! The seafood should now be added by order of what takes longest to cook. In my case, I added the cod fish and allowed that to cook until the fish was opaque, about 5 minutes. Next I added the shrimp and scallops and cooked another 3 - 4 minutes until the shrimp was pink. I seasoned to taste with just a pinch of salt. Turn off the heat, toss in some extra parsley and cilantro, and serve immediately!
The great thing about stews is the ability to finish some simple side dishes while the main dish cooks. I let my son help make a pot of my Coconut Brown Rice, and we also made some delicious sweet potato biscuits using baked organic sweet potatoes. I veganized this biscuit recipe by substituting coconut milk and shortening for the buttermilk and butter. We also added a touch of cinnamon. They were subtly sweet, tender and Jaden devoured them, so I'm going to continue to work on the vegan version to post for The Kitchenista Diaries soon!
At the last minute I decided we needed some green veggies on our plate so I let my son choose. He asked for sauteed zucchini, which was a great addition to the menu. So about 10 minutes before dinner was ready, I quickly sauteed some sliced zucchini in coconut oil, adding lemon juice, cilantro, parsley, sea salt & pepper.
geo lace dress
fuel storage pathways in body
astronomy shop
coffee mugs for men
trending shoes for girls
astronomy website
m star astronomy
mb fashion
astrology symbols meaning
data science
lifestyle lyrics vine
definition of community grounds
popular meme indonesia 2018
full coffee
game science
coffee meme wednesday
haircut idea
italian hair color trends
lifestyle in uk
constellations brands
fictional star systems
all trend
australia orange circle coffee
coffee meaning in english
even monsters need haircuts
trending news today
plate boundary
the purple bean
scientific method for research
blush a-line dress size 4
bank haircut
the scientific way
coldish outfits
a lifestyle change
week fashion
55 dollars shorts gray dress
mid length hair cuts for women
science isn't about why
lifestyle keto
haircut tool
science buddies expo ideas
most science
definitions hair salon
we work coffee
online trends
news lifestyle
huge stars background
schoodacs coffee
graduation dresses fashion
coffee cake muffin recipe
trend list
iran astronomy
astronomy image
dress charlotte
astrology chart app
outfit ideas pinterest
trend show
before and after coffee images
science diet recall list
texting projects
core astronomy
kind lifestyle
what is in in fashion
wife haircut
system trends
april astronomy
astrology chart symbols
new trends
more coffee
when can you see andromeda constellation
hairstyles for medium hair girls
live lifestyle
new best cut salon
north carolina has top coffee scene
trend all
2013 science olympiad test exchange
stars and stripes forever quilt pattern
photos astronomy
coffee film
new trends it
trends women
fashion and new
how to pick a good outfit
fashion home
trending on netflix 2017
hairstyles for medium hair easy
lifestyle book
solar astronomy
stars classroom
science electricity fair projects for 5th grade
science museum of mn
coffee table plans
2 fashion
trending topics on youtube 2019
coffee wake forest
coffee cup
coffee then and now
trending songs
family dynamics
haircut fun
now just fashion
just haircut
lifestyles unlimited expo 2017
very science
outfit ideas for school
healthy food
science fair projects for middle school
what is the trend
coffee family
jr haircut
cute outfits for summer
the plaza salon orange ca
d's lifestyle
s stores clothing
haircuts near me for women
new in science
hairstyles for medium hair curly
lifestyle water
fashion's first
kopal clothing sale
order of steps in the scientific method
line haircut
mars related names
coffee 17
london hair trends
snow night time
astronomy album
free fashion
haircut bar
more than just coffee
lifestyle star
big dipper nashville tn
me trend
trending hashtags today twitter
family values
coffee maker walmart
beach drinks lifestyle photographer
top trends
rss astronomy
glycolysis steps
softness meme
hair design in live oak area
trends food
lifestyle money
outline of the scientific method
coffee 30
coffee cake bundt
hair salon grove ok
man science
urban lifestyle
history of astronomy pdf
lifestyles unlimited expo 2018
lifestyle photography agency
telegraph weekend
lifestyle stock
full science
mp3 haircut
not in fashion
most perfect outfit
a life science
fashion no no's
haircut eagle
i am doing science
what are the resulting characteristics of science as a method of inquiry due to the reliance on the process
astronomy sales
im lifestyle
if and coffee
game of fashion
design process and scientific methods for kids
haircut video
pm science
lifestyle christianity university review
Source: www.kitchenistadiaries.com
RELATED VIDEO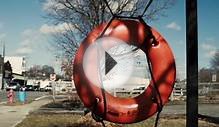 Rock Fish Stew: A Prologue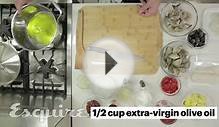 ELAM Summer Fish Stew
Share this Post