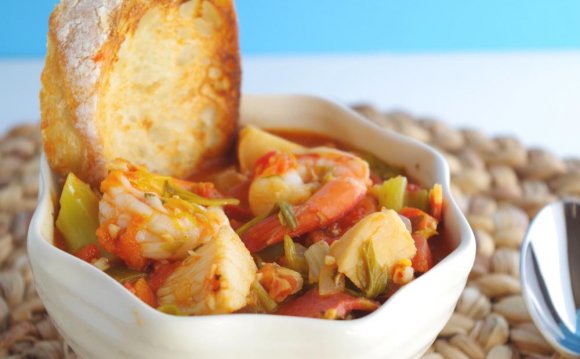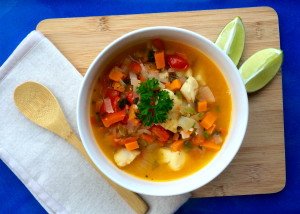 Bahamian cuisine showcases the plethora of amazing seafood just off its shores. Fish chowder, commonly made with local conch, is a Bahamian favorite. If you can't find conch, substitute any firm white fish. Though potatoes are usually included in this recipe, I've swapped in a sweet potato to add an extra boost of vitamin A, C, and healthy fiber. It also gives the soup a beautiful color. Scotch Bonnet peppers, most traditionally used in this recipe, pack a big hit of heat. Use them with caution or substitute a habanero pepper. All hot peppers are rich in capsaicin, which is what gives them their spicy flavor. Capsaicin gives your metabolism a kick, and also helps boost your immune system. Make this soup in the cold winter days ahead, and dream of the Bahamian beaches!
Total Time: 45 minutes
Serves: 4
Ingredients:
2 tablespoons coconut oil
1 yellow onion, peeled and chopped
4 garlic cloves, peeled and chopped
1 medium sweet potato, chopped into small dice
1 red bell pepper, cored and chopped
1 cup cherry or grape tomatoes, halved
1 Scotch Bonnet Pepper, or habanero pepper, deseeded and deveined, and chopped, to taste
2 fresh thyme sprigs, leaves removed and stems discarded
1 pound boneless white fish fillets (try cod, grouper, or halibut), cut into 1 inch cubes
4 cups fish stock (substitute vegetable stock if necessary)
Salt and pepper, to taste
Fresh lime wedges and fresh chopped herbs, to serve
Directions:
In a large pot, heat the coconut oil over medium heat. Add the onion, garlic, and sweet potato, and let them soften for 5-6 minutes. Add the bell pepper, tomatoes, hot pepper, and thyme, and cook for 5 more minutes.
Add the fish fillets and stock, and stir gently. Bring up to a simmer, lower the heat, and cook for 25 minutes, until the fish is firm and the vegetables have softened. Season to taste with salt and pepper, and serve with fresh lime wedges and fresh chopped herbs. Enjoy hot, or heated up the next day. The flavors continue to get better!
Source: www.healthytravelblog.com
RELATED VIDEO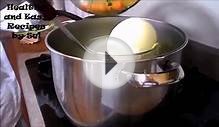 Fish Rice Soup Recipe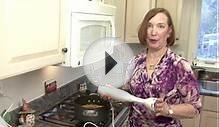 Soup Recipes - Chili Corn Chowder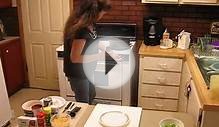 Healthy Shrimp, Corn & Crab Chowder Soup. Low fat ...
Share this Post