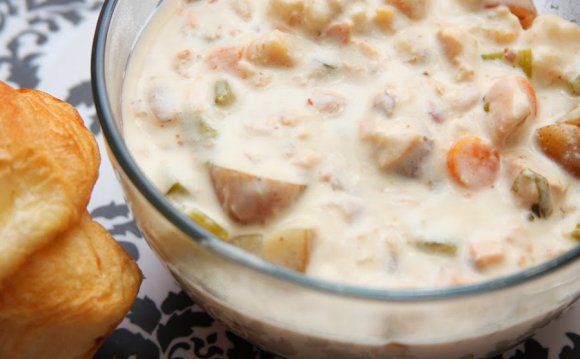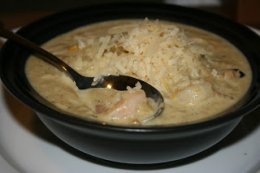 Day 46.
Friday fresh fish, all you hungry bloggers come and eat it up...
although the fish I used wasn't fresh, it was frozen.
The kids went through a phase where they ate a can of Progresso Clam Chowder every day for lunch. It was a very easy time for me.
This tastes remarkably similar without chemicals, a tin-can taste, or boatloads of sodium.
And it was easy.
The Ingredients:
-1 lb of white fish (I used frozen Orange Roughy from Trader Joe's)
-3 cups of chicken broth (I'm now officially out of my homemade stuff. I'm kind of bummed.)
-9 baby potatoes (or 10. but not 11.)
-1 cup frozen roasted corn
-1/2 white onion
-handful baby carrots
-heart of celery
-3-4 cloves of garlic
-1/2 t black pepper
-salt (to taste, especially if using homemade broth)
-2 cups frozen shrimp (to add later)
-1 cup heavy whipping cream (to add later)
The Directions:
-chop up all the vegetables. I used my handy-dandy Pampered Chef chopper because I like it and it reminds me of when I used to be invited to those kinds of parties. How come people don't have those any more?
-cube the fish, it's okay if it's still frozen.
-dump everything except the cream and the shrimp into your stoneware insert
cook on low for 8-10 hours, or until the potatoes are tender. If your veggies are too big for your taste, use an immersion blender to smooth it out.
30 minutes before serving, stir in your cup of cream and the frozen shrimp. Turn your crockpot to high for the last 30 minutes.
Source: www.ayearofslowcooking.com
RELATED VIDEO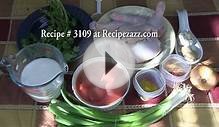 Slow Cooker Chicken Curry Recipe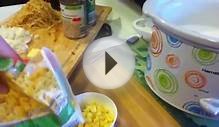 Slow Cooker Corn Chowder by The Wife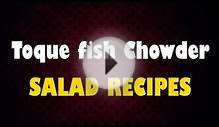 Toque fish Chowder - Salad Recipes - Easy Recipes
Share this Post