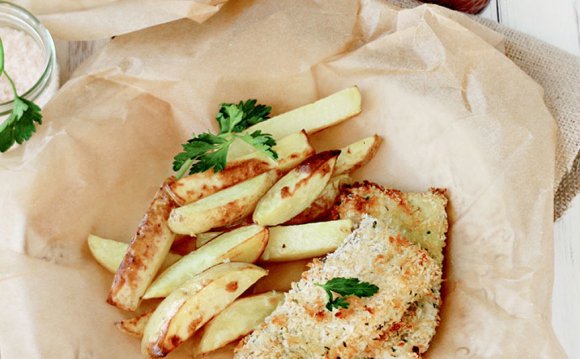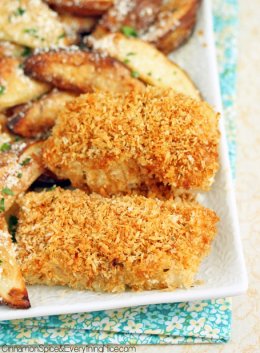 Panko coated cod baked until golden brown and flaky along side Parmesan oven fries and the easiest lemon tartar sauce you will ever make.
INGREDIENTS:
1 + 1/2 pounds russet potatoes, scrubbed clean
1 - 2 teaspoons olive oil, plus more for greasing pans
coarse salt and fresh black pepper
1 cup panko crumbs
1/2 cup seasoned bread crumbs
1 pound cod fish
1/3 cup mayonnaise
2 - 3 tablespoons grated Parmesan cheese
1 heaping teaspoon chopped fresh parsley
Tartar sauce:
2 - 3 tablespoons dill pickle relish or chopped dill pickles
zest of one lemon
malt vinegar, for serving
INSTRUCTIONS:
Preheat the oven to 400 degrees F. Grease a large cookie sheet.

Meanwhile set to work on your fish:

Cut the potatoes lengthwise into long 1-inch wide wedges. Place on cookie sheet and drizzle with oil. Toss with your hands then spread out on the baking sheet. Sprinkle with coarse salt and black pepper. Bake about 30 - 35 minutes until golden.

Set a cast iron skillet or saute pan over medium heat and toast the panko crumbs, stirring often until lightly golden. Remove to a shallow bowl and allow to cool. Mix in the seasoned bread crumbs.

Lightly grease a large roasting pan with oil.

Use a pastry brush to coat the tops and sides of the fish with a thin layer of mayonnaise, season them with salt and pepper then coat with the panko crumbs patting on with your hands. I only coat the top and sides leaving the bottom plain. Set the fish in the pan and sprinkle some of the remaining crumbs over top.

Bake 12 - 20 minutes depending on the size of your fish - check the middle - the fish should be white and not translucent in the center.

Meanwhile make the tartar sauce by mixing the mayonnaise, dill pickles and lemon together in a small bowl.

When the potatoes are cooked toss with parmesan and parsley.

Serve with tartar sauce and malt vinegar for the fries, if desired.
Notes:
Copyright ©2013 Cinnamon Spice and Everything Nice by Reeni Pisano All Rights Reserved.
Source: www.cinnamonspiceandeverythingnice.com
RELATED VIDEO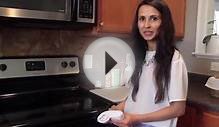 Baked Fish and Chips with Avocado Salsa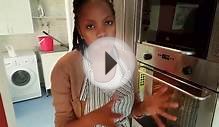 kale chips recipe // Oven baked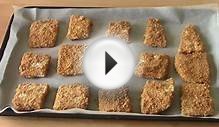 Oven Baked Fish Nuggets - RECIPE
Share this Post