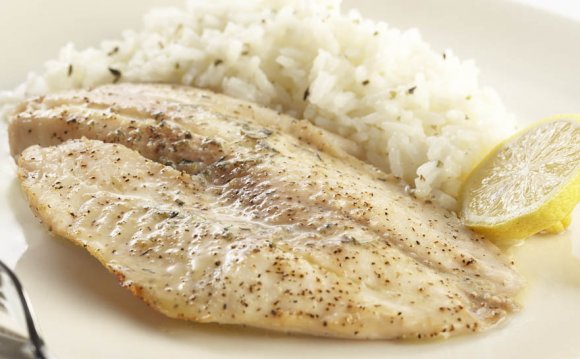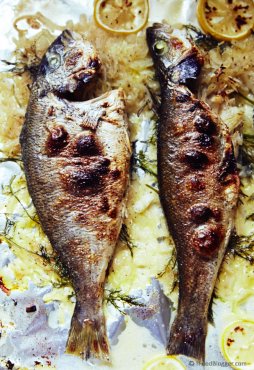 I have to be honest with you, I usually associate oven baked whitefish with bland, boring flavors. It's healthy, good for you, nourishing food, but often super unexciting. This recipe has changed this line of thinking for me in a big way. My wife, who got this recipe from her mom, makes killer oven baked white fish. It's so delicious that even the pickiest eaters in our household, our kids, wipe their plates clean. They don't even leave the onions behind. This dish is also low carb, paleo friendly and super healthy. It doesn't get any better than that, does it?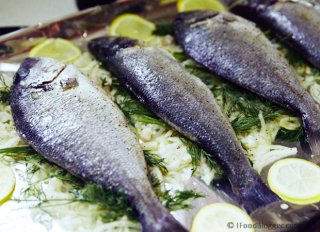 Start with good fish. The kind that you like and the kind that doesn't have too many bones such as Cod, Haddock or Turbot. Tons of little, annoying bones can really ruin your enjoyment of this dish. We are fortunate enough to live close by a little fish store that often carries very reasonably priced exotic and somewhat exotic fish. In this cook we are using Spigola (Mediterranean sea bass) and Daurade (Mediterranean sea brim). I'll let you in on a little secret, I did not know these fish before we bought them, nor can I remember their names – I had to write them down. I don't even remember which one is which – is the fatter one Spigola or Daurade? I guess it's not so important – they both taste absolutely fantastic and have very few bones. Kudos to our fishmonger for recommending these to us.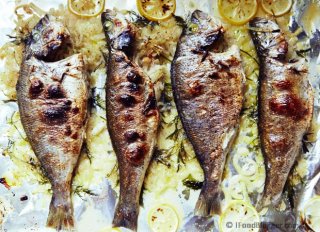 What makes the fish in this recipe absolutely delicious is marination in onion and lemon juice, use of aromatic herbs and the way it is cooked. Don't skimp on onions. Yes, you have to use one large onion per one mid-size fish. Sounds like too much, but there is a good reason for it. Onions hold lots of water. When you bake your fish you want it to stay moist. The onion bed will make sure the fish gets lots of moisture by releasing steam during the bake. Aromatic elements from the onions, lemon slices, dill and rosemary will make the fish so fragrant that you will be salivating long before it's cooked. Last step is quick but very crucial – broiling. Broiling crisps up the top of the fish and gives it a beautiful deep golden brown color and flavors of a pan-fried fish, but without all the added grease and fat. A must try recipe!
Total time
Ingredients
4 medium size whitefish (for example Cod, Haddock or Turbot)
4 large onions
1 bunch fresh dill
4-8 rosemary sprigs
1 lemon
1 Tbsp olive oil
1 tsp + 2 pinches per fish black pepper
1 tsp + 2 pinches per fish tsp kosher salt
Source: ifoodblogger.com
RELATED VIDEO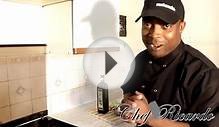 Baked Beans and Salt fish Served With Dumpling and White Rice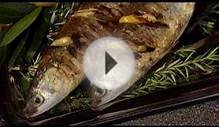 Grilled or Baked Whole Fish Recipe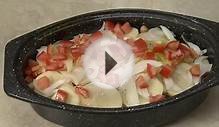 Homemade Italian Baked White Fish with Potatoes (Med Diet ...
Share this Post