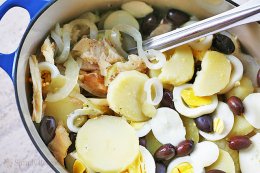 The first time my friend and fellow food blogger Fernanda mentioned wanting to make a Portuguese salt cod stew, I was skeptical. (Though given how well Fernanda's salmon fish stew had turned out what was I thinking?)
Salt cod isn't one of those easily-found-in-the-supermarket items. For hundreds of years codfish preserved in salt may have been a food staple in North America and Europe, but with the advances of modern refrigeration in the last century, it's been sort of hard to come by actually, for decades.
Too bad it's so hard to fine, as the drying process that preserves salt cod greatly concentrates its flavor.
I apologize in advance, as I know this recipe is a little far out, not exactly a simple midweek meal (actually it's very easy to make, assuming you can get your hands on the salt cod). But the minute I first tasted Fernanda's bacalhoada, as it is called in Portuguese, I knew I had to make it.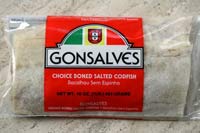 We found the fish at Corti Brothers, a local Italian specialty food market. Fernanda's instructions came with ingredients and method but not quantities, so for the most part I'm guessing here, based on my memory of the dish and on other bacalhoada recipes I've found online.
Most recipes I found have salt cod, potatoes, and onions as a base. Many of the recipes also layered in sliced fresh tomatoes, which would be perfect in the summertime. I've double-layered this dish in a Dutch oven and cooked it on the stove-top; most recipes I found used a broad casserole dish, only had one layer of fish, and baked it in the oven. The hard boiled eggs, surprisingly, really work with the flavors of this dish.
The first trick is properly adjusting for the salt content. If you've changed the soaking water several times, you may end up rinsing away all of the fish's salt, in which case you'll have to add some back in.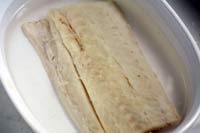 Make sure you taste the fish before you layer it in the casserole so you'll know if and how much salt to add. The second trick is to be very liberal with the olive oil. If you get the stew on your plate and it tastes a little dry, add more olive oil. The oil is what binds all of the flavors together.
Ingredients
1 lb salt cod fillets, preferably skinless and boneless
3/4 to 1 cup of good quality extra virgin olive oil
Milk (optional)
2 large yellow or sweet Vidalia onions, sliced
2 lbs waxy potatoes (Yukon gold work great), peeled
4 eggs, hard boiled and sliced
About 40 pitted black olives (I used Kalamata olives, can also use green olives)
Kosher salt and freshly ground black pepper
Method
Salt cod typically comes either in dry fillets, already boned and skinned, or it comes whole. The fillets need to be rinsed, then soaked in water, and kept chilled, for 24 hours, with one or two changings of the water. If you are using a whole fish, not prepared fillets, it needs to be soaked in water for up to 48 hours, also with several changings of water, and the bones and the skin removed and discarded after soaking.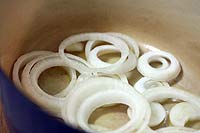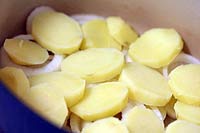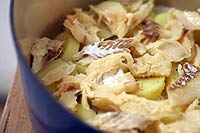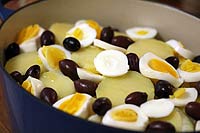 Source: www.simplyrecipes.com
Share this Post