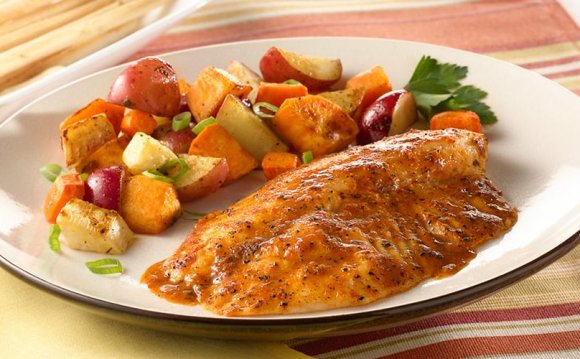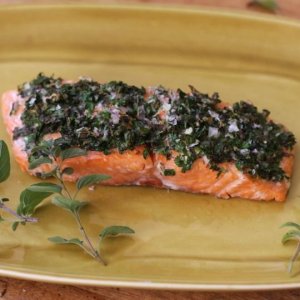 Salmon is one of the most versatile proteins to work with in the kitchen. It's delicious and universally loved, quite good for you, and very easy to prepare. Salmon still retains its fancy and festive reputation, even though it is more readily available these days and can be purchased at a decent price point from most grocery stores. My favorite way to cook salmon is in the oven, very low and slow, with a pan of water for moist heat. Read on for this utterly simple, foolproof way to produce moist, flavorful, and luscious salmon fillets.
There are three important aspects in this method: low oven, moist heat, and fresh herbs. The low oven prevents the salmon proteins from seizing up, keeping it tender and silky. It also helps in reducing an overly fishy taste which can be off-putting to some. The moist heat is easily achieved by placing a pan of water in the oven. This helps to keep the salmon juicy and tender; it will still flake, but in lovely, silky folds.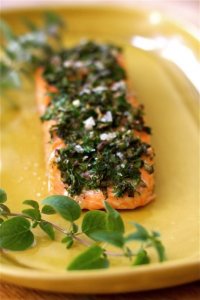 The fresh herb layer adds flavor, complementing the taste of the salmon without overpowering it, as well as protecting the fish from harsh heat. It also means you don't have to make a sauce, since the herb layer provides plenty of flavor and texture. The herbs are up to you, but I like to use parsley, basil, and dill — tarragon is also nice. Using lemon zest is a great way to add lemon flavor to the salmon without using lemon juice, which will also "cook" the fish (think ceviche), with the majority of it just running off anyway. The lemon zest stays put and adds a necessary brightness to the rich salmon.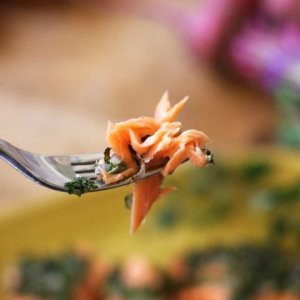 Finally, I need to pay homage to chef Suzanne Goin, whose recipe for Wild Salmon Salad in her book Sunday Suppers at Lucques introduced me to the low-and-slow, herb-crusted method for baking salmon. Goin uses slightly different herbs, and ends up creating an amazing salmon salad with beets, potatoes, eggs, dandelion greens, and a mustard sauce. This is all fine and dandy, but I have found that just serving the salmon with its herb crust is plenty good enough for those evenings when you don't have the time to fuss.
This method will produce moist, flaky, silky salmon with a not too fishy flavor. The herbs, salt and lemon add brightness, contrasting with the rich salmon.
Serves 2, can be easily doubled
What You Need
Ingredients
12 ounces salmon fillet, skin on (or 6 ounces per person)
1 small shallot, finely chopped (about 1 heaped tablespoon)
2 tablespoons chopped parsley
2 tablespoons chopped basil (or other herb of your choice)
1 teaspoon dried dill (or 1 tablespoon fresh)
Finely grated zest of a lemon (1 loosely packed tablespoon)
1 tablespoon of olive oil or enough to moisten the herbs
A generous pinch of flaky sea salt
Equipment
A shallow baking tray
Source: www.thekitchn.com
RELATED VIDEO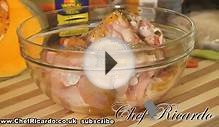 CURRY OVEN BAKED CHICKEN RECIPE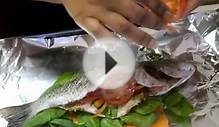 Oven Steam Fish island Style | Healthy fish recipe ...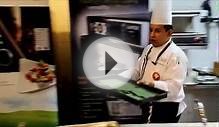 Lainox Combi Oven Cook - Grilled Fish Video Recipe
Share this Post